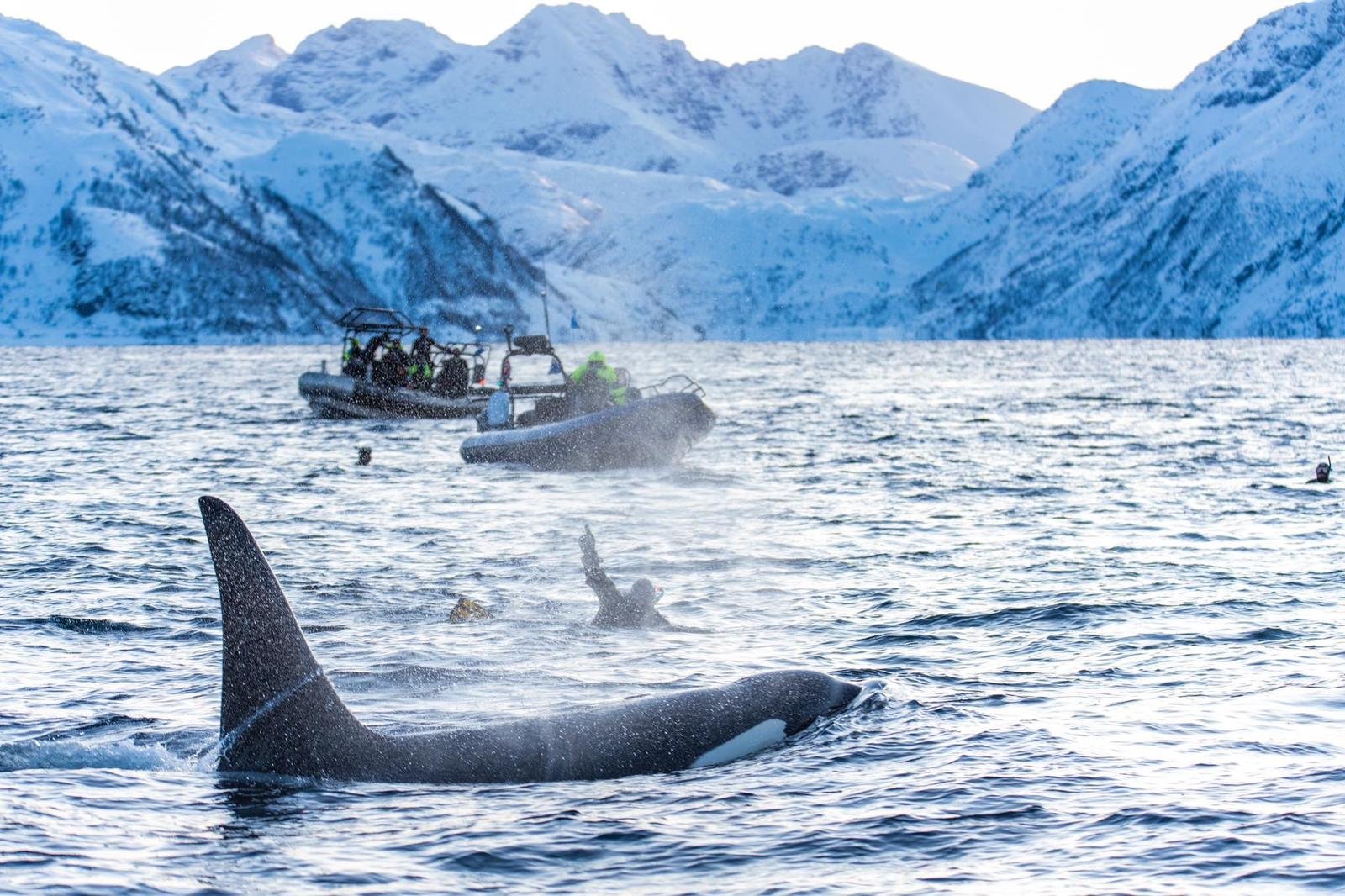 12 Jun

Where to swim with orcas in norway ? The Ultimate Guide to Swimming with Orcas in Norway
Introduction to Swimming with Orcas in Norway
Swimming with orcas, also known as killer whales, is a once-in-a-lifetime experience for many wildlife enthusiasts and adventure seekers. Norway, with its stunning fjords and rich marine life, offers some of the best opportunities for close encounters with these magnificent creatures. In this section, we will discuss what makes Norway a prime destination for orca encounters, provide an overview of the orca population in the country, and outline the best time of the year to plan your unforgettable orca swimming adventure.
What makes Norway a prime destination for orca encounters?
Norway stands out as a top destination for orca encounters due to several factors. Firstly, the country's pristine fjords and coastal waters provide an ideal habitat for orcas and other marine life. The nutrient-rich waters, fed by the Gulf Stream, support a thriving ecosystem, which in turn attracts large numbers of orcas in search of food. Secondly, Norway's strict conservation policies and sustainable tourism practices ensure that orcas can be observed in their natural environment without disturbing their behavior or habitat. Lastly, the country boasts a well-developed infrastructure, making it easy for visitors to access prime orca-watching locations and book guided tours led by experienced professionals.
Understanding the orca population in Norway
The orca population in Norway is believed to be around 1,500 individuals, making it one of the largest concentrations of orcas in the world. Norwegian orcas are known for their distinct vocalizations and unique hunting techniques, such as the "carousel feeding" method, in which they work together to herd herring into tight bait balls before feasting on them. Orcas in Norway are also known for their impressive size, with males reaching up to 9 meters (30 feet) in length and weighing as much as 10,000 kg (22,000 lbs).
Best time of the year to swim with orcas in Norway
The best time of the year to swim with orcas in Norway is during the winter months, from November to February. This is when large schools of herring, the orcas' primary food source, migrate into the fjords and coastal waters of northern Norway, attracting numerous orcas in search of a feast. During this period, the chances of encountering orcas are significantly higher, and the winter light conditions also create a magical atmosphere for observing these majestic animals in their natural environment. Keep in mind that the weather can be unpredictable, and water temperatures are chilly, so appropriate gear and preparation are essential for a safe and enjoyable experience.
Preparing for Your Orca Swimming Adventure
Before embarking on your orca swimming adventure in Norway, it is essential to be well-prepared to ensure an enjoyable and safe experience. In this section, we will discuss the necessary skills, gear, and considerations to keep in mind.
Necessary swimming and snorkeling skills
Swimming with orcas requires a certain level of physical fitness and swimming ability. You should be comfortable swimming in open water and have basic snorkeling skills, including being able to clear your mask and snorkel. It is recommended to practice swimming and snorkeling in a pool or controlled environment before your trip to build confidence and familiarity with the equipment.
Appropriate gear and equipment for orca swimming
To stay warm and comfortable during your orca encounter, it is crucial to have the right gear. Most tour operators will provide essential equipment such as wetsuits or drysuits, gloves, hoods, and fins. However, it's a good idea to bring your own mask and snorkel for a better fit and hygiene reasons. Remember to dress in layers under your wetsuit or drysuit, as the water temperatures can be quite cold.
Health and safety considerations
Before participating in an orca swimming adventure, ensure that you are in good health and have no medical conditions that would prevent you from engaging in physical activities. Consult with your doctor if you have any concerns about your health or fitness level. Additionally, follow all safety guidelines provided by your tour operator and always stay with your group during the encounter to minimize risks.
Ethical guidelines for swimming with orcas
When swimming with orcas, it is important to adhere to ethical guidelines that prioritize the well-being of the animals and their environment. Maintain a respectful distance from the orcas and avoid touching or harassing them in any way. Do not attempt to feed the orcas, as this can disrupt their natural feeding patterns and behavior. By following these guidelines, you can ensure a positive and sustainable experience for both you and the orcas.
Top Locations to Swim with Orcas in Norway
Norway offers some of the best locations in the world to swim with orcas. In this section, we will explore four top destinations for orca encounters, each with its unique charm and opportunities for unforgettable experiences.
Tromsø: Gateway to the Arctic
Tromsø, nicknamed the "Gateway to the Arctic," is a popular starting point for orca swimming expeditions. The city is easily accessible by air, and its surrounding fjords are home to a thriving orca population. In addition to swimming with orcas, visitors can also enjoy the vibrant city life, museums, and the chance to witness the mesmerizing northern lights.
Lofoten: Scenic and Secluded
The Lofoten Islands offer a more secluded and scenic setting for orca encounters. The islands are famous for their dramatic landscapes, picturesque fishing villages, and a rich variety of marine wildlife. Orcas can be spotted in the waters surrounding Lofoten, and the smaller number of tourists means a more intimate and personal experience with these magnificent creatures.
Vesterålen: Marine Wildlife Hotspot
Vesterålen is another fantastic destination for orca swimming in Norway. This archipelago is known for its abundant marine wildlife, including humpback whales, sperm whales, and of course, orcas. The pristine waters and remote location make Vesterålen a perfect choice for those seeking a truly immersive experience with nature.
Andenes: The Whale Watching Capital of Norway
Andenes, situated on the island of Andøya in the Vesterålen archipelago, is often referred to as the whale watching capital of Norway. The deep waters off the coast of Andenes attract numerous whale species, including orcas. In addition to swimming with orcas, visitors can also participate in whale watching cruises and learn about these majestic animals at the local whale center.
With so many amazing locations to choose from, you're sure to find the perfect spot for your unforgettable orca swimming adventure in Norway.
Booking Your Orca Swimming Expedition
How to choose a reputable tour operator
When booking your orca swimming expedition, it is crucial to select a reputable tour operator. Look for companies that prioritize the safety of both guests and orcas and follow ethical guidelines for wildlife encounters. Check for positive online reviews and testimonials from previous customers. Additionally, consider tour operators that have knowledgeable and experienced guides, as well as proper permits and certifications to operate in the area. Don't hesitate to contact the company directly with any questions or concerns.
Group vs. private tours: Pros and cons
Both group and private tours offer unique advantages and disadvantages when it comes to swimming with orcas. Group tours are generally more affordable, offering the opportunity to share your experience with like-minded travelers. However, they may also mean less flexibility and potentially crowded waters. Private tours, on the other hand, provide a more personalized experience with greater control over the itinerary and more one-on-one time with the guide. However, they can be significantly more expensive than group tours.
What to expect from your orca swimming tour
On your orca swimming tour, expect to be briefed by your guide on safety measures, ethical guidelines, and proper snorkeling techniques. You will be provided with the necessary gear, such as a wetsuit, snorkel, and fins. Once in the water, you will likely spend several hours searching for orcas and swimming alongside them, under the guidance of your experienced guide. Keep in mind that orca encounters can never be guaranteed, as they are wild animals, and their presence depends on various factors such as weather conditions, food availability, and migration patterns.
Approximate costs and available packages
The cost of an orca swimming tour in Norway can vary depending on factors like the tour operator, group size, and duration of the trip. Generally, prices range from $300 to $700 per person for a day tour. Some companies offer multi-day packages that include accommodation and additional activities, such as whale watching, northern lights tours, or fjord cruises. These packages can cost between $1,000 and $3,000 per person. It's important to research and compare different tour operators to find the best package for your budget and preferences.
What to Expect During Your Orca Encounter
During your orca swimming adventure, you'll have the opportunity to experience the thrill of being in the water with these magnificent creatures. Here's what you can expect during your encounter:
Getting up close and personal with orcas
One of the most exhilarating aspects of swimming with orcas in Norway is the chance to get up close and personal with these incredible marine mammals. As you enter the water, you'll be amazed by their size, grace, and power. Keep in mind that it's essential to maintain a respectful distance from the orcas to ensure their safety and well-being. Listen to your guide's instructions and follow their lead throughout the experience.
Other marine wildlife you might see
In addition to orcas, the waters off the coast of Norway are home to a diverse array of marine wildlife. During your orca swimming adventure, you may also encounter humpback whales, white-sided dolphins, harbor porpoises, and various species of seals. Don't forget to keep an eye out for seabirds, such as puffins, guillemots, and sea eagles, which are commonly found in the area.
Respecting orcas' natural behavior and habitat
It's crucial to remember that we are visitors in the orcas' natural environment and must respect their behavior and habitat. Avoid making loud noises or sudden movements that could disturb the orcas or other marine wildlife. Be mindful of your surroundings and avoid touching or harming the marine ecosystem, including coral reefs, seagrass beds, and other habitats.
Capturing the experience: Photography and video tips
Bringing home stunning photos and videos of your orca encounter is a fantastic way to remember your adventure and share it with friends and family. Invest in a good quality waterproof camera or housing for your existing camera to ensure you can capture the experience without damaging your equipment. Remember to practice your photography and videography skills before the trip, as the fast-moving orcas and low light conditions can be challenging to capture. Most importantly, don't forget to enjoy the moment and take in the incredible experience of swimming with orcas in Norway.
Accommodation Options in Northern Norway
When planning your orca swimming adventure, it's essential to choose the right accommodation to make the most of your trip. Northern Norway offers various lodging options, from vibrant city life to cozy cabins and close-to-nature retreats. Here are some top choices for your stay.
Staying in Tromsø: City life and northern lights
Tromsø, known as the Gateway to the Arctic, offers a range of accommodation options to suit all budgets and preferences. From boutique hotels and modern apartments to cozy guesthouses and budget-friendly hostels, you'll find something that fits your needs. Staying in Tromsø also offers the chance to experience city life, local culture, and the stunning northern lights during your trip.
Lodging in Lofoten: Cozy Rorbu cabins
For a unique and authentic Norwegian experience, consider staying in a Rorbu cabin in the Lofoten archipelago. These traditional fisherman's cabins have been converted into cozy, comfortable lodgings with modern amenities. Many cabins offer stunning waterfront views and direct access to nature, making them a perfect base for your orca swimming adventure and other outdoor activities.
Vesterålen accommodations: Close to nature
Vesterålen, a neighboring archipelago to Lofoten, offers various accommodations that bring you closer to nature. From eco-friendly lodges and charming bed & breakfasts to camping sites and rustic cabins, you can immerse yourself in the pristine Arctic wilderness. Vesterålen is also a marine wildlife hotspot, making it an excellent choice for orca swimming enthusiasts.
Hotels and guesthouses in Andenes
Andenes, known as the Whale Watching Capital of Norway, offers a range of hotels, guesthouses, and apartments to choose from. Staying in Andenes provides easy access to orca swimming tours and other marine wildlife excursions. The town also has a variety of restaurants, shops, and attractions to ensure a comfortable and enjoyable stay during your Arctic adventure.
Travel Tips for Northern Norway
How to get to your orca swimming destination
There are several ways to reach your orca swimming destination in Northern Norway. Flying is the quickest and most convenient option, with several airports serving the region, including Tromsø, Evenes (for Lofoten and Vesterålen), and Andenes. Major airlines like Norwegian Air and SAS provide regular flights from Oslo and other European cities. Alternatively, you can take a scenic train journey from Oslo to Bodø and then catch a ferry to your desired location. For those who prefer to drive, renting a car allows for maximum flexibility and the opportunity to explore the breathtaking landscapes along the way.
What to pack for your Arctic adventure
Packing for an Arctic adventure requires careful planning to ensure you stay warm and dry in the often harsh conditions. Essential clothing items include thermal base layers, a warm fleece or down jacket, waterproof and windproof outer layers, insulated gloves, a hat, and neck gaiter or scarf. Don't forget sturdy, waterproof boots with good grip, as well as warm socks. For your orca swimming expedition, pack a swimsuit, swimming goggles, and a towel. A dry bag is useful for keeping your belongings safe and dry on the boat. Other essentials include a reusable water bottle, sunscreen, sunglasses, and any personal medications.
Navigating Norway's public transport system
Norway has an efficient and reliable public transport system that connects major towns and cities, making it relatively easy to get around. Trains, buses, and ferries are the primary modes of transport, with the Hurtigruten coastal ferry service being a popular option for reaching remote destinations in Northern Norway. When planning your journey, visit the national transport website, Entur, to find schedules, routes, and ticket information for all modes of public transport. Remember to book train and ferry tickets in advance to ensure availability and the best prices.
Useful tips for first-time visitors to Norway
For a smooth and enjoyable trip to Norway, keep the following tips in mind:
Currency: The currency in Norway is the Norwegian Krone (NOK). Credit cards are widely accepted, but it's always a good idea to have some cash on hand for smaller purchases or in remote areas.
Language: Norwegian is the official language, but most Norwegians speak English fluently. Learning a few basic phrases in Norwegian can be helpful and appreciated by locals.
Weather: Weather in Northern Norway can be unpredictable, with sudden changes and extreme conditions. Always check the weather forecast before heading out and be prepared for varying conditions.
Tipping: Tipping is not as common in Norway as in other countries, but a 10-15% tip for exceptional service in restaurants or for taxi drivers is appreciated.
Emergency number: The emergency number in Norway is 112. Save it in your phone just in case.
With these travel tips, you're well-prepared for your unforgettable orca swimming adventure in Northern Norway.
Combining Your Orca Swim with Other Activities
While swimming with orcas is undoubtedly the main attraction for many visitors to Norway, there are plenty of other exciting and memorable activities to experience during your trip. In this section, we'll explore some of the most popular options for making the most out of your Arctic adventure.
Exploring the beautiful fjords of Norway
Norway is famous for its stunning fjords, with their deep blue waters, towering cliffs, and cascading waterfalls. To truly appreciate the beauty of these natural wonders, consider taking a guided fjord cruise or renting a kayak to paddle through the calm waters. Don't miss the opportunity to visit some of the most picturesque fjords, such as Geirangerfjord, Sognefjord, and Nærøyfjord.
Chasing the northern lights: Aurora Borealis tours
One of the most magical experiences you can have in Norway is witnessing the mesmerizing dance of the aurora borealis, or northern lights. The best time to see this natural phenomenon is between October and March, which coincides with the orca swimming season. Many tour operators offer guided northern lights tours, which can include photography workshops, snowshoeing, or even a visit to a traditional Sami reindeer camp.
Whale watching cruises for those who want to stay dry
If you prefer to admire the majestic orcas and other marine wildlife from the comfort of a boat, opt for a whale watching cruise. These tours typically last several hours and are led by knowledgeable guides who can share fascinating information about the animals and their habitat. Keep your eyes peeled for humpback whales, fin whales, and porpoises, as well as a wide variety of seabirds.
Hiking and sightseeing in Northern Norway
The rugged landscapes of Northern Norway offer countless opportunities for hiking and sightseeing. With its dramatic mountain peaks, pristine lakes, and dense forests, the region is a hiker's paradise. Some of the most popular trails include Reinebringen in Lofoten, the Queen's Route in Vesterålen, and the hike to the iconic Trolltunga rock formation. Be sure to research trail conditions and difficulty levels before setting out, and always follow Leave No Trace principles to help preserve these beautiful areas for future generations.
Preserving the Orca Population and Marine Ecosystem
The importance of sustainable tourism practices
Preserving the orca population and marine ecosystem is crucial for their long-term survival and the health of our planet. This can be achieved by promoting sustainable tourism practices. When participating in orca swimming expeditions, it's essential to choose tour operators that prioritize the environment and the well-being of the orcas. Look for companies that adhere to strict guidelines, such as maintaining a safe distance from the animals, using eco-friendly equipment, and limiting the number of tours conducted to reduce the impact on the orcas' natural habitat. By supporting sustainable tourism practices, you are contributing to the preservation of these magnificent creatures and the marine ecosystem.
How to support orca conservation efforts
There are several ways to support orca conservation efforts. First and foremost, educate yourself about orcas and the threats they face, such as pollution, climate change, and overfishing. By understanding these issues, you can make informed decisions when choosing tour operators and other activities that involve marine wildlife. Additionally, consider donating to organizations dedicated to orca conservation, such as the Orca Research Trust or the Whale and Dolphin Conservation. These groups work tirelessly to protect orcas and their habitat through research, advocacy, and public awareness campaigns.
Educating others about orcas and their habitat
Sharing your knowledge and passion for orcas is a powerful way to raise awareness and inspire others to take action. Talk to your friends, family, and colleagues about your orca swimming experience and the importance of preserving their habitat. Use social media to share images, videos, and stories about your encounters, along with information on orca conservation initiatives. You can also get involved in local and global events, such as World Oceans Day, to advocate for the protection of marine wildlife and their environment. By educating others, you can play a crucial role in ensuring the survival of orcas and the marine ecosystem for future generations.
FAQ: Frequently Asked Questions
Is it safe to swim with orcas in Norway?
Swimming with orcas in Norway is generally considered safe, as long as you follow the guidelines provided by your tour operator and maintain a respectful distance from the animals. Orcas are intelligent and curious creatures, but they are also wild animals, so it is important to always follow the advice of your guide and be aware of your surroundings.
What are the best months to swim with orcas?
The best months to swim with orcas in Norway are from late October to early February, when the orcas gather in large numbers to feed on the abundant herring fish. During this period, the chances of encountering orcas are high, and you will likely be able to observe them in their natural habitat.
Do I need any special permit or certification to swim with orcas?
No special permits or certifications are required to swim with orcas in Norway. However, it is essential to choose a reputable tour operator that follows ethical guidelines and prioritizes the safety of both the participants and the orcas. Some operators may require participants to have prior snorkeling or diving experience.
What should I wear when swimming with orcas?
When swimming with orcas in the cold waters of Norway, it is essential to wear a well-fitted wetsuit or drysuit, gloves, and a hood to keep you warm. Your tour operator will likely provide this equipment, but it's a good idea to double-check before your trip. A good-quality snorkel and mask are also necessary for observing the orcas underwater.
Are there age restrictions for orca swimming tours?
Age restrictions for orca swimming tours may vary depending on the tour operator. Generally, participants must be at least 12 years old to join an orca swimming tour, and minors must be accompanied by a responsible adult. Some operators may have additional age or experience requirements, so it is best to check with them directly.
Can I touch or feed the orcas during the encounter?
Touching or feeding orcas during the encounter is strictly prohibited, as it can disrupt their natural behavior and potentially put both you and the orcas at risk. It is essential to maintain a respectful distance from the orcas and follow the guidelines provided by your tour operator to ensure a safe and enjoyable experience for all.
How can I support orca conservation efforts in Norway?
You can support orca conservation efforts in Norway by choosing an eco-friendly tour operator, participating in orca research programs, and educating others about the importance of protecting these magnificent creatures and their habitat. Additionally, you can support organizations working on orca conservation, such as the Norwegian Orca Survey and the Whale and Dolphin Conservation.
What do I do if I encounter an injured or distressed orca?
If you encounter an injured or distressed orca, it is crucial to report the sighting to the local authorities or your tour operator immediately. Do not attempt to approach or help the orca, as this may cause further harm or stress to the animal. The appropriate authorities will assess the situation and take the necessary actions to help the orca.
How does climate change affect orcas in Norway?
Climate change affects orcas in Norway by causing shifts in water temperature and the distribution of their prey, such as herring. As a result, orcas may need to travel further to find food, which can impact their health and reproductive success. Additionally, climate change can lead to increased human activities in orca habitats, such as shipping and fishing, which can increase the risk of orca entanglement in fishing gear or collisions with vessels.